Now Seeking Recently Injured or Ill Workers to Join RETAINWORKS
RETAINWORKS is part of the Retaining Employment and Talent After Injury/Illness Network (RETAIN), a federally-funded initiative exploring stay-at-work/return-to-work (SAW/RTW) strategies. We are currently seeking individuals to participate in a Kansas-based research project designed to help workers stay at or return to the workforce following an illness or injury.
Is RETAINWORKS for me?

If you experienced a recent offsite injury or illness (mental or physical) that prevents you from returning to work right away you may qualify for RETAINWORKS. This program is for people with recent musculoskeletal injuries, mental health disorders, and chronic diseases such as Chronic Obstructive Pulmonary Disease (COPD) or Congestive Heart Failure (CHF). Conditions must be new or an existing condition that has become worse. Other qualifications include:
You must be currently employed or seeking employment.
You must live in Kansas and have a valid social security number.
You must be between the ages of 18 and 65 years.
You must not be on Social Security Disability Insurance (SSDI) or Supplemental Security Income (SSI). , or have a pending application.
Individuals with all levels of illness or injury will be considered. Even with the most significant disability, you can be a productive employee, whether it means returning to your old position or finding a new employment match.
When an individual is out of work, they may experience more severe or new health conditions; increased anxiety, depression and social isolation; increased poverty; and a poorer quality of life.
RETAINWORKS can help you get you back to work as soon as it's medically feasible.
Avoid Greater Health Risks with Return-to-Work Strategies
Even a short absence from work can take money out of your pocket. Time-loss (worker's compensation) benefits do not pay your full wage, and studies show the longer you are off work, the harder it is to go back and return to your previous wage level.
Leaving the labor force can also lead to adverse effects on your health and quality of life. Risks include:
More severe or new health conditions such as substance abuse.
Increased anxiety, depression, and social isolation.
Permanent unemployment and poverty.
A poorer quality of life.
RETAINWORKS can help you avoid these risks and get you back to work as soon as it's medically feasible.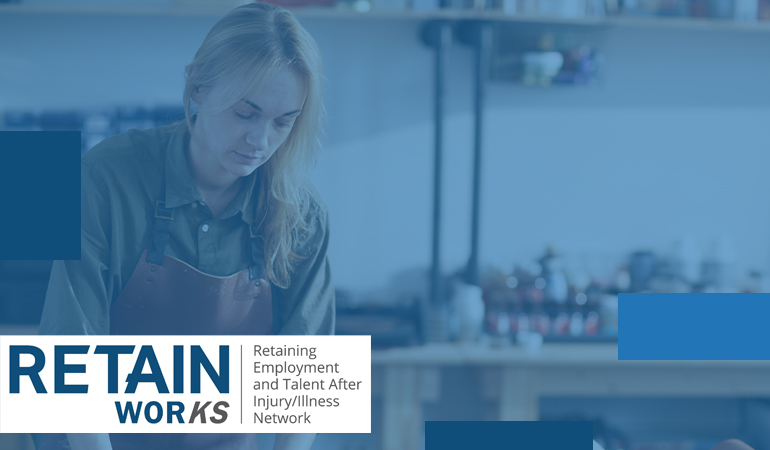 (Not all eligible workers will receive all RETAINWORKS services. Individuals will be randomly selected to participate in RETAINWORKS.)
RETAINWORKS Partnerships
The Kansas Department of Commerce in partnership with the Workforce Alliance of South Central Kansas and Ascension Via Christi, implemented a stay-at-work/return-to-work pilot program, called RETAINWORKS, Retaining Employment and Talent after Injury/Illness Network. The project began on June 3, 2019, with a pilot program for Butler County employers or residents through the Butler Workforce Center in El Dorado, in partnership with Ascension Via Christi (AVC). It has recently been expanded to cover residents of Cowley, Harper, Kingman, Sedgwick, and Sumner.